2022 Chevrolet Suburban near Vallejo CA

View Inventory
There is a lot to look forward to in the world of SUVs as we head into 2022. The newest Chevy Suburban has all the features you need and more! From its safety ratings, powerful engine options, and sleek exterior design, this SUV is sure to please. Check out our list of reasons why it's worth your time.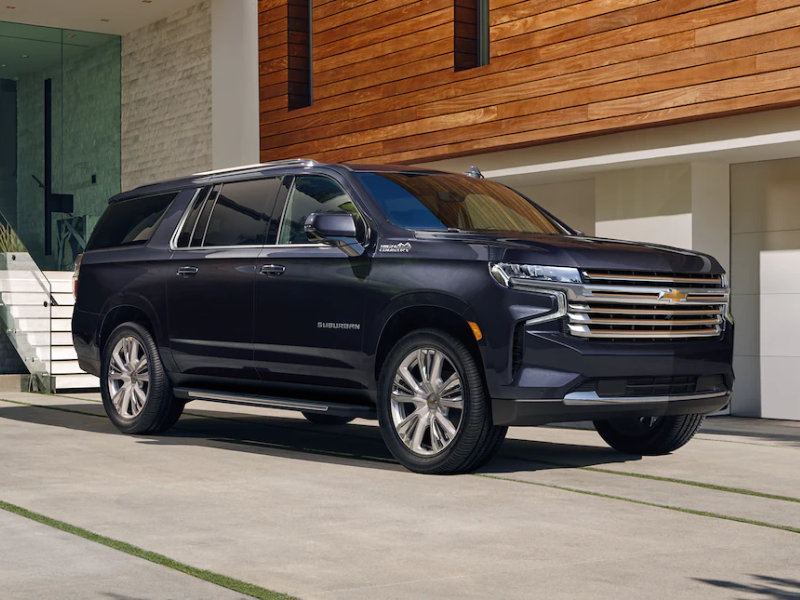 Exterior - Chevrolet Dealer serving Vallejo CA
The Chevrolet Suburban is a lot of cars, and it shows. It has large wheels that make for an impressive look, and the bold grill of the front also helps to give this vehicle a strong appearance. This SUV offers more than enough room, which makes it great if you have kids or pets because there will be plenty of space available in each row. It will be easy to find the right height that fits your needs, as this vehicle offers three different seat heights. The two-tone color scheme of the interior helps make it look even more appealing and sleek. The exterior of this vehicle is fully loaded to give you a perfect drive no matter what adventure or road trip lies ahead.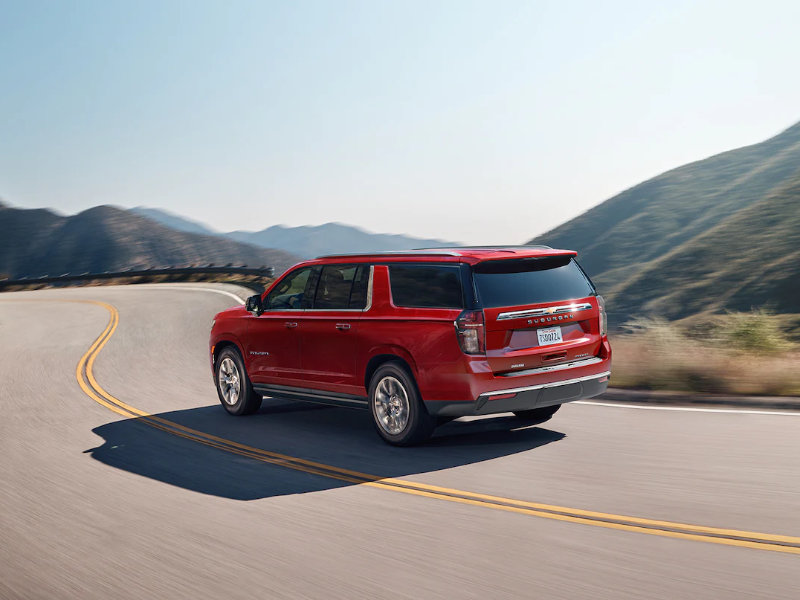 The Chevrolet Suburban has an interior that is designed to be comfortable and luxurious. It features leather front seats, a full-length center console with compartments to store your essentials, panoramic sunroofs in the second row, a power liftgate rear window with a w/defrosting glass panel & LED lights. This new vehicle comes with the latest technology and trends in car amenities, including USB ports for both front seats, wireless phone charging pad, Bluetooth capabilities, and keyless entry. The cabin features seating for up to nine people with ample legroom, storage space, and comfort. The vehicle is equipped with a navigation system as well as Bluetooth capability for phone use during driving. It also has an auxiliary input port so that you can play music directly from your device through the car speakers. The cargo area of this large SUV comes equipped with a cargo area cover to protect your belongings along with storage under the floor for additional security.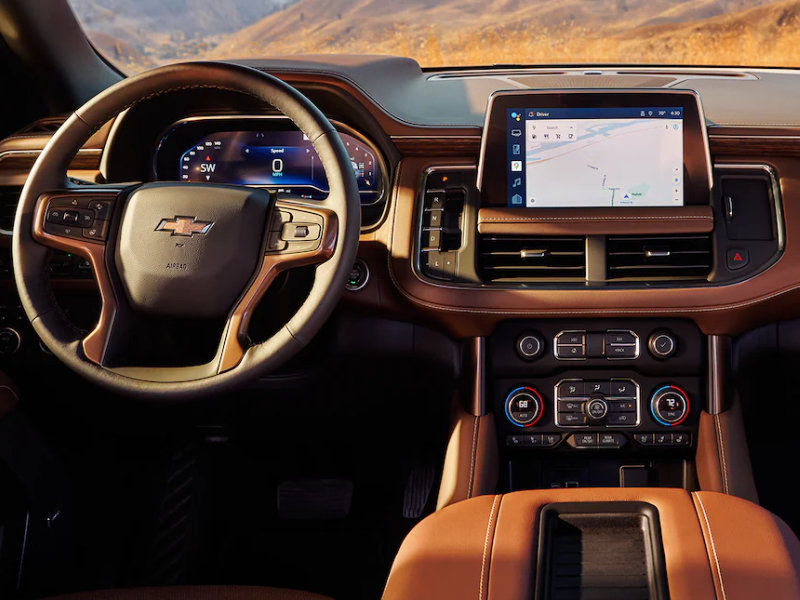 Chevrolet Suburban Mechanical specs
Looking for a Winter Chevrolet? This type of vehicle is a great option if you are looking for a car that can handle tough weather conditions while also being stylish and luxurious. It's the perfect mix between an SUV look and a luxury-style sedan with all of its amenities.In Winter Chevrolet provides warmth to the passengers. During Winter Chevrolet comes equipped with heated front seats to keep your body warm during those cold winter months, as well as a heated steering wheel to keep your hands from getting too cold. These features can also be turned off if you'd rather not use them and want the air conditioner on instead. The newest Chevrolet Suburban is available with multiple engine options, which gives you more control over what kind of power plant fits your needs best. The fuel economy of this SUV has improved thanks to the addition of stop-start technology, which helps you save money at the gas pump. This vehicle can be equipped with a hybrid electric engine or traditional gas one; either option will give you all the power that you need for your drives.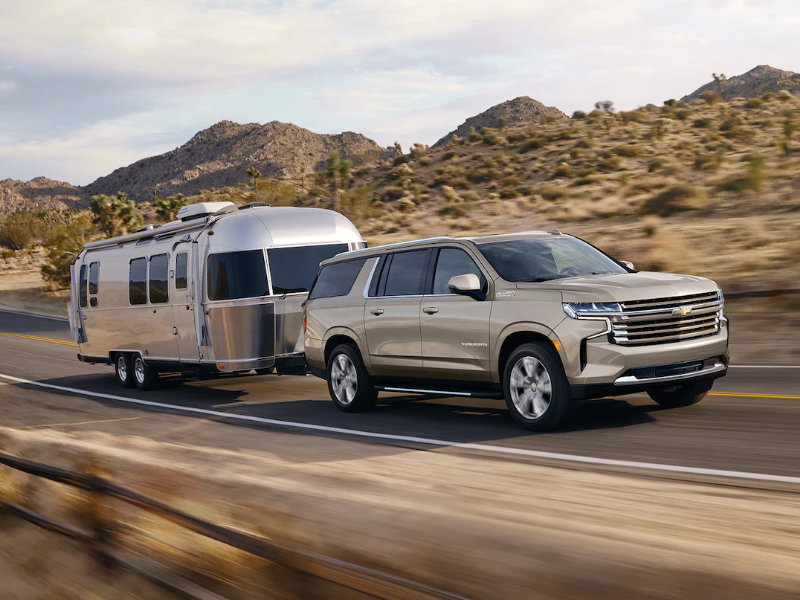 Powertrain - Chevrolet Dealership near Vallejo CA
The 2022 Chevrolet Suburban is available with two different engine options. It comes equipped with a standard gas-powered Vortec V-eight, which provides plenty of power to get you where you need to go quickly and smoothly. You can also choose the hybrid-electric option that will give you more power when needed for quick acceleration or hill climbs. It is equipped with a stop-start system that will help you save money at the gas pump. This technology turns off your engine when it's not needed, such as at a red light or in heavy traffic. It saves fuel and reduces emissions by up to 15 percent. The hybrid-electric option of this vehicle comes with an Active Twin Clutch system. This technology knows when the vehicle is going uphill and automatically engages in more fuel-efficient gear to reduce your CO emissions. The Chevrolet Suburban comes equipped with an EcoMode, which will help you increase fuel economy by up to 22 percent for a smoother drive that also reduces carbon dioxide output by up to 13 percent. The Suburban is also available with an adjustable air suspension and adaptive dampers, which allow dropping the ride height for clearance or improving aerodynamics. Engine. The Chevrolet Suburban comes with a standard V-shaped engine which is powerful and efficient as well.
Safety - 2022 Chevrolet Suburban dealer
There is a full range of safety features on the Chevrolet Suburban. If you are traveling with children, they will be extra safe in the back seat because it has been designed for them to feel comfortable and secure at all times. Have fun while driving without having too much distraction from other drivers, thanks to sensors that monitor your surroundings every time you go out on the road. There's also a backup camera to assist you when parking or changing lanes, so you never have an accident. The safety rating for this SUV is pretty good across the board ranging from four out of five stars for frontal crashes to five out of five stars for side impacts. It has blind-spot monitoring and rear cross-traffic alert for an added sense of security. It has automated Emergency Braking. The 2022 Chevrolet Suburban is a great vehicle to own for families or anyone looking for an all-around safe vehicle with lots of great features! It has excellent safety ratings, helps you stay in control when towing heavy loads, and offers assistance technology like automatic emergency braking.
If interested, contact us, our dealership for the 2022 Chevrolet Suburban near Vallejo. We are serving Pittsburg Dublin Concord Tracy Walnut Creek. The 2022 Chevrolet Suburban near Vallejo is a great dealership to get yourself the Chevrolet Suburban serving Pittsburg Dublin concord Tracy walnut creek. The 2022 Chevrolet Suburban near Vallejo keeps consumer interest first, serving Pittsburg Dublin concord Tracy walnut creek.